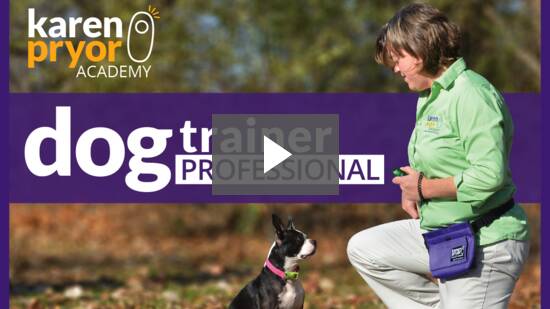 Karen Pryor Academy's Dog Trainer Professional program offers an in-depth distance learning curriculum that explores the theoretical and practical aspects of animal training, teaching, and business set-up, along with 4 two-day practical workshops.
Students are required to complete both practical and written assignments and assessments, and attend all four workshops. They have the full support of their experienced and skilled KPA-accredited faculty mentor.
This comprehensive six-month course will give all you the knowledge and skills you need to attain to the highest standards of positive reinforcement training, effectively teach these skills to others, and run a successful dog training business.
The DTP is based on the most up-to-date behaviour science, taking you through all levels, from foundation knowledge to advanced concepts in animal training, and also covers behaviour management solutions.
Application and Enrollment Timeline:
Apply anytime before 2 March, 2018
On-Site Workshop Dates:

Workshop 1: 28-29 April 2018
Workshop 2: 23-24 June 2018
Workshop 3: 11-12 August 2018
Workshop 4: 22-23 September 2018
Contact Information
Alexis Davison
Email: alexis@scholarsincollars.com.au
Phone: 0400 205 667
Facility Information:
Andy's Doggy Day Care
4 Rickard Street, Brunswick East VIC 3057
www.andysdoggydaycare.com.au
Hotels & Lodging
Coming soon
Veterinarians Nearby
Brunswick Central Vet Clinic
210 Lygon Street
Brunswick East Victoria 3057
Telephone: 03 9381 4411
www.brunswickcentralvet.com.au