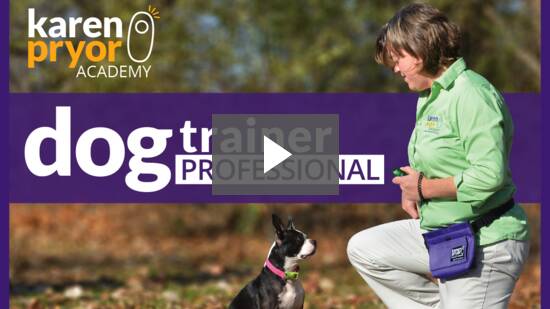 Our 6-month Dog Trainer Professional program is for the highly motivated dog trainer who is looking to advance his/her skills and career prospects to their highest levels. The program combines online learning with hands-on instruction and is divided into four online Units and four two-day hands-on workshops; complete an online Unit and then attend a two-day workshop at the end of each Unit.
Application Deadline:
On-Site Workshop Dates:
Workshop 1: 4/28/18 - 4/29/18
Workshop 2: 6/09/18- 6/10/18
Workshop 3: 7/28/18 - 7/29/18
Workshop 4: 9/08/18 - 9/09/18
Contact information
Clicking With Canines
P.O. Box 5715
Endicott, NY
United States
607-217-0428
Tuition:
The tuition of this Dog Trainer Professional program is $5,300. Click here for information on financial assistance offered.
Facility & Location Information
Directions

My training facility is approximately 6000 sq. ft. and has two training rooms, a small retail store, a kitchen, and a restroom. It is well lit, matted, and air conditioned. The facility is located behind 111 West Main Street, Endicott, New York.

From Route 17 (either east or west bound) take the exit for Endicott (Route 26 north). Follow it west (it is also indicated as Main Street and Route 17C) through Endicott to Nanticoke Avenue ("The Corner Drug Store" is on the corner!). Take a right onto Nanticoke Avenue and almost an immediate left into a parking lot (directly across from Hurricane Riley's restaurant.) Park in the lot (you do not have to feed the meters).

The entrance to my classroom is a side door not visible from the parking lot. You can find the entrance by walking toward the rear entrance of Lampy's restaurant (look for their bright purplish/blue awning over the door). As you approach Lampy's, look to your right and you'll see the entrance to "Clicking With Canines" in the corner of the building. The entrance is a glass door, with a banner depicting puppies hanging on the inside of the door. Enter through the door and then take a left down the short flight of stairs.

Hotels & Lodging

For lodging, I recommend the Red Roof Inn in Johnson City which is about 5 miles from my classroom. It is easily accessible from the Rt. 17 (Exit 70 North), directly across from a large mall, and plenty of restaurants within walking distance. All Red Roof Inns are happy to accept pets. There is no additional charge for pets.

Red Roof Inn
590 Fairview Street
Johnson City, NY 13790
607-729-8940

Veterinarians Nearby

Dr. Alison Beaulieu
Dickin Memorial Animal Hospital
716 Harry L Dr
Johnson City, NY 13790
607-217-5202

The practice is just a few blocks west of the Red Roof Inn.