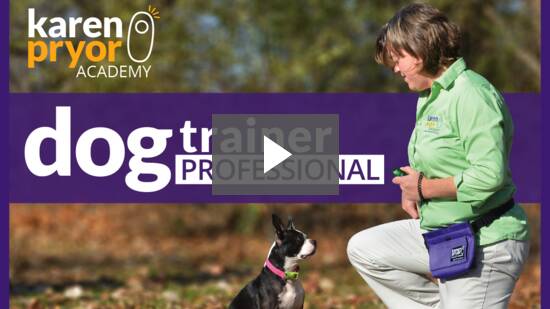 Our 6-month Dog Trainer Professional program is for the highly motivated dog trainer who is looking to advance his/her skills and career prospects to their highest levels. The program combines online learning with hands-on instruction and is divided into four online Units and four two-day hands-on workshops; complete an online Unit and then attend a two-day workshop at the end of each Unit.
Application Deadline:
Apply anytime before 10/05/18
On-Site Workshop Dates:
Workshop 1: 11/30/18 - 12/01/18
Workshop 2: 1/18/19 - 1/19/19
Workshop 3: 3/08/19 - 3/09/19
Workshop 4: 4/26/19 - 4/27/19
Karen Pryor Academy is not regulated in Texas under Chapter 132 of the Texas Education Code.
Tuition:
The tuition of this Dog Trainer Professional program is $5,300. Click here for information on financial assistance offered.
Facility & Location Information
Location

The Fundamental Dog
31311 FM 2978
Suite #103
Magnolia, TX 77354

Hotels & Lodging

La Quinta Inn & Suites Woodlands Northwest
6930 FM 1488 Rd
Magnolia, TX 77354
281-259-1757
"Pets Welcome"

Baymount Inn And Suites Conroe/The Woodlands
1506 Interstate - 45 South, Conroe, TX 77304
936-539-5100
Pets allowed with fee

Best Western The Woodlands
17081 I-45 South, The Woodlands, TX 77385
936-271-2378
Pets allowed

Veterinarians Nearby

The Animal Emergency Clinic of Conroe
920 West Dallas Suite 13
Conroe, Texas 77301
936-539-3800

Animal Emergency & Urgent Care Center of The Woodlands
Wood Ridge Plaza (behind Pier 1 Imports)
27870 Interstate 45 North
The Woodlands, TX 77385
281-367-5444