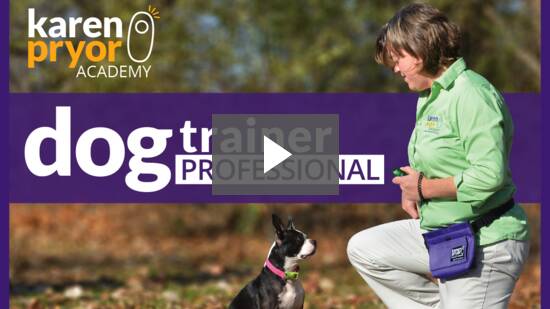 Our 6-month Dog Trainer Professional program offers an in-depth distance learning curriculum that explores the theoretical and practical aspects of animal training, teaching, and business set-up, along with 4 two-day practical workshops. Students are required to complete both practical and written assignments and assessments, and attend all four workshops. They have the full support of their experienced and skilled KPA-accredited faculty mentor.
This comprehensive six-month course will give all you the knowledge and skills you need to attain to the highest standards of positive reinforcement training, effectively teach these skills to others, and run a successful dog training business. The DTP is based on the most up-to-date behaviour science, taking you through all levels, from foundation knowledge to advanced concepts in animal training, and also covers behaviour management solutions.
Application Deadline:
Apply anytime before 30 March 2018
On-Site Workshop Dates:
Workshop 1: 26/27 May 2018
Workshop 2: 28/29 July 2018
Workshop 3: 29/30 September 2018
Workshop 4: 24/25 November 2018
Tuition:
Tuition for the UK Dog Trainer Professional Program is £3500. Tuition price does not include VAT. Students should be prepared to pay VAT, should it be required. Tuition is due upon enrollment. Pay in full, or inquire about our five-part installment plan.
Contact
Sara Benton
sara.benton@outlook.com
Facility & Location Information
Location

Doggy Day Solent Ltd
https://www.doggy-daycare-solent-ltd.co.uk/
17 Bridge Industries
Fareham, Hampshire
PO16 8SX
Telephone: 07519 881026
Just off Junction 11 on the M27, this venue is easily accessible with plenty of parking, and benefits from both indoor and outdoor facilities.

Hotels & Lodging

TravelRest Solent Gateway Hotel Fareham

Many more available within a 10 mile radius!

Veterinarians Nearby

Fareham Creek Vets – 01329 280412

Alver Veterinary Group – 01329 289354

Companion Care Collingwood – 01329 552155