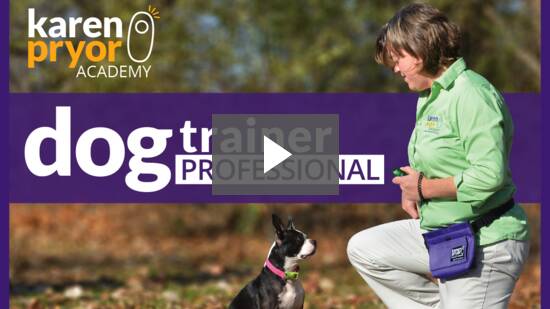 Our 6-month Dog Trainer Professional program is for those who are looking to advance their dog training skills and career prospects to their highest levels. The program focuses on the science behind behavior and gives participants all of the skills needed to succeed as professional trainers.
The program combines online learning with hands-on instruction. Complete the online portion at home over approximately six (6) months. Then travel to the US for nine (9) days of integrated training, education, and certification assessment.
Bond with your dog like never before, build fluent behaviors and solid chains, train new species, and join a global community of Karen Pryor Academy Certified Training Partners by applying today!
Application and Enrollment Timeline:
Application Deadline:
Apply anytime before November 1, 2017
Enrollment Date:
Students should be prepared to make payment and enroll in the workshop series between November 1, 2017 and November 8, 2017. Students will pay in US dollars.
Tuition:
The tuition of this Dog Trainer Professional program is $5,300 USD.
When
Begin the online portion of the course from your own country in November 2017.
Travel to the US for an intensive 9-day workshop May 8-16, 2018 (8 workshop days and 1 day off).
Where
US Training Location: Rincon American Legions Post #67
Rincon, PR 00677
Faculty Contact:
Area Info:
"Rincon" translates to "corner" in Spanish, a nod to the town's location at the corner of the Atlantic Ocean and the Caribbean Sea. Rincon is famous for its picturesque sunsets and miles of beaches, and is a haven for surfers of all ages and skill levels. The relaxed coastal town hosts an array of annual festivals and events, and although a small and intimate town by nature, Rincon boasts a medley of divergent atmospheres and venues, from the charm of secluded beaches to the active triathlon and surfing communities.
Lodging
As a thriving town with a diverse tourism market, Rincon boasts many options for accommodation. From vacation rentals, to small guesthouses, to some larger (no chain) hotels there are many choices for various budgets. The following link provides a good cross section of options: http://www.rincon.org/hotels/ Please email Terrie with any questions you may have about local accommodations.
Wednesday, November 1, 2017