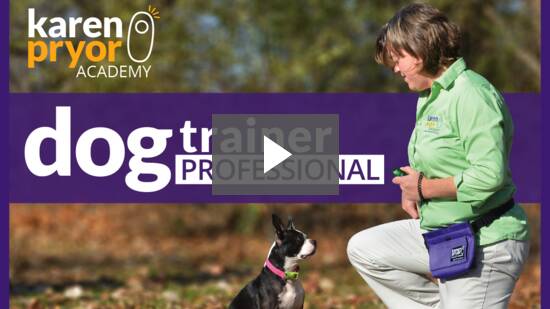 Our 6-month Dog Trainer Professional program is for those who are looking to advance their dog training skills and career prospects to their highest levels. The program focuses on the science behind behavior and gives participants all of the skills needed to succeed as professional trainers.
The program combines online learning with hands-on instruction. Complete the online portion at home over approximately six (6) months. Then travel to the US for nine (9) days of integrated training, education, and certification assessment.
Bond with your dog like never before, build fluent behaviors and solid chains, train new species, and join a global community of Karen Pryor Academy Certified Training Partners by applying today!
Application and Enrollment Timeline:
Join experienced trainers from all over the globe.
Apply anytime before April 2, 2018.
Tuition:
The tuition of this Dog Trainer Professional program is $5,300.
When
Begin the online portion of the course from your own country in April 2018.
Travel to the US for an intensive 9-day workshop

October 15-23, 2018

(8 workshop days and 1 day off).
Where
US Training Location: Washington State (near Seattle), 700
Fox Hollow, Sequim, WA 98382
Lodging
Quality Inn & Suites
134 River Rd, Sequim, WA 98382
(360) 683-2800