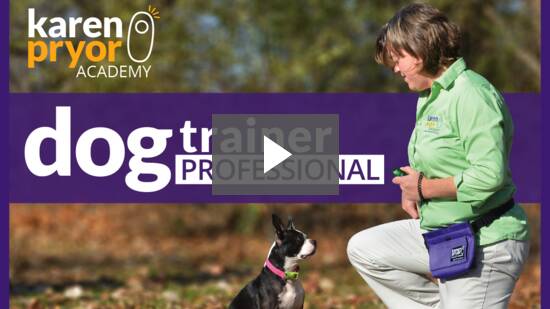 Karen Pryor Academy's Dog Trainer Professional program offers an in-depth distance learning curriculum that explores the theoretical and practical aspects of animal training, teaching, and business set-up, along with a five-day practical workshop.
Students are required to complete both practical and written assignments and assessments, and attend the workshop. They have the full support of their experienced and skilled KPA-accredited faculty mentor.
This comprehensive nine-month course will give all you the knowledge and skills you need to attain to the highest standards of positive reinforcement training, effectively teach these skills to others, and run a successful dog training business.
The DTP is based on the most up-to-date behaviour science, taking you through all levels, from foundation knowledge to advanced concepts in animal training, and also covers behaviour management solutions.
"This course has been the most amazing experience of my life and I am so pleased that I put other things aside for it. It has been so worth it."
-Heather Stevens
"This has been without doubt the most rewarding achievement of my life. Really life changing."
-Carol Milner
"It has been a fantastic 9 months and both myself and my dog, Rune, have loved every minute. I am so proud to be a part of KPA."
-Alasdair Bunyan
"I'm so proud of what we achieved and to be a part of KPA. It has been a wonderful learning experience."
-Kim Lyddon
Application and Enrollment Timeline:
Apply anytime before 4 December, 2017
Enrollment Date:
Students should be prepared to make payment and enroll in the workshop series between 5 December- 8 December, 2017
On-Site Workshop Dates:
3-7 (Monday-Friday) September 2018
Tuition
Tuition for the UK Dog Trainer Professional Program is £3500. Tuition price does not include VAT. Students should be prepared to pay VAT, should it be required. Tuition is due upon enrollment. Pay in full, or inquire about our five-part installment plan.
Contact information
Phone: 07985 905 183
Facility Information
Karen's DOGS Training Centre
Unit One
Knightradge Industrial Estate
Livingston
EH54 8RA
United Kingdom
Accommodations and Veterinary Information
Veterinarians Nearby

Lamond Veterinary Clinic
Bankton Square, Murieston, Livingston EH54 9EY, UK

​Pentland Veterinary Clinic
​​​5 Riccarton Mains Road,
Currie,
Midlothian
EH14 5PX
Pet Friendly Accommodations can be found here: http://www.iknow-uk.com/scotland/edinburgh/livingston/pet-dog-friendly/