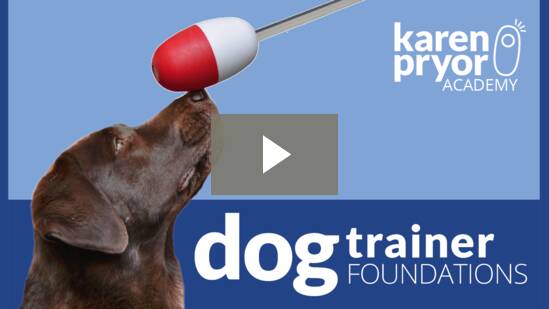 Get the jump start you need to become a great dog trainer! Our online Dog Trainer Foundations course is the ideal entry point for those considering a career in dog training, or for anyone looking to broaden his or her dog training skills and knowledge. It offers the opportunity to explore the Karen Pryor Academy (KPA) approach to effective force-free training.
Take this online course anywhere in the world, and start at any time!
Benefits of This Course
Master the basic principles of dog training, with a focus on the fundamentals of force-free training and a solid foundation in clicker training.
Learn with the help of the same outstanding faculty members who teach our flagship Dog Trainer Professional program.
Study online with stunning, high-quality video lessons, fun and instructive games, and in-home exercises.
Learn more about the details of this course >
Check out the course learning goals >