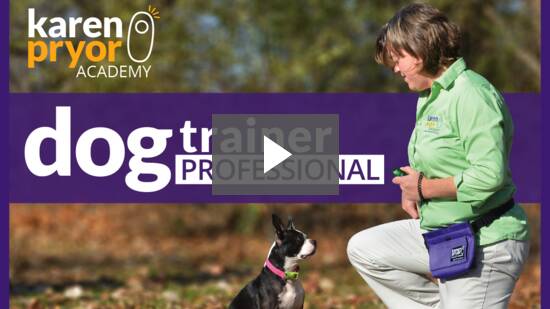 Course Details
The Dog Trainer Professional Program National Format combines the convenience of online learning with the power of hands-on teaching.
Online learning: Feature-rich online learning tools lead you through online lessons and challenging training exercises designed to prepare you for your workshop session with faculty. Online learning allows you to learn at your convenience. Our engaging curriculum was created specifically for this environment. Preview the course online.
Hands-on workshop: You and other members of your class gather once at the teacher's training facility to practice, hone, and test your skills. Travel with your dog to the workshop location for five (5) days of integrated training, education, and certification assessment. Travel will occur after you complete the online portion of the program.
Ongoing support: You'll have the support of your teacher to review your training videos, answer your questions, and help you along.
Alumni support: Graduates of the program become Karen Pryor Academy Certified Training Partners (KPA-CTP), joining a network of expert trainers with access to a common marketing infrastructure and ongoing opportunities for learning. Read more about our membership benefits
Check out the Course Guide (PDF).
Who Should Apply
This course if for you if…
you are a highly motivated trainer with specific goals for improving your knowledge, skills, and career prospects. You should also value the affiliation with positive reinforcement training and Karen Pryor Academy
you possess a significant amount of dog training experience prior to applying to the Dog Trainer Professional program. Preferred experience would include experience as a dog trainer, assistant dog trainer, or similar. Further, some hands-on experience with clicker training is recommended. For additional dog-related or clicker training experience before applying, please consider our Dog Trainer Foundations. If you don't know which course is right for you, compare our two courses.
Experienced trainers, including experienced clicker trainers, will find the Dog Trainer Professional program very challenging very quickly. We cover the basics of clicker training at first, but move on to advanced topics like behavior chains, shaping, cueing, TAGteach, and business planning shortly thereafter.
You will need to provide two professional references (from managers, clients, or colleagues) as part of your application. Your application will be reviewed and acted on as quickly as possible, usually within 1-2 business days.
Continuing Education
Students of the Dog Trainer Professional program can receive CEUs for completion of the course.
The Certification Council for Professional Dog Trainers (CCPDT) awards 30 CEUs.
The International Association of Animal Behavior Consultants (IAABC) awards 30 CEUs.